Remote guarding is achieved by the use of new technology that utilizes video analytics-enabled cameras to serve as "digital guards" watching over outdoor facilities and premises or indoor areas and monitored from our 24 Hour Monitoring Center. Each camera is intelligent enough to distinguish between a car, dog and human and will generate an alarm when specific rules are broken, such as person detected in unauthorized area, travelling in the wrong direction, breaching perimeter, etc. When a breach is detected, the system will send a video clip of the event, to Hawkeye's Monitoring Centre. Our Operator would be able to review the clip to see what caused the alarm as well as view a live video stream. Our Operator would be able to determine if the alarm is genuine or not and dispatch our Armed Response Team and or the Police. It is possible for the Operator to have two way audio communications with the location if the system is designed to do so.
Remote Guarding is ideal for:
Strengthening existing security  by having an additional security company monitoring your premises during emergencies. For example, panic buttons can be connected to this system so that in the event cashier presses the panic button, a video of the event will immediately pop up at our Monitoring Centre and an armed response team dispatched. We can also import the video clip, creating a copy of this event offsite for evidence purposes.
Reducing Guard Costs  By replacing your static security guards, a remote guarding solution can provide significant savings.
CheckVideo

CheckVideo is a cloud-based intelligent video surveillance and alarm verification system. It's smart detection tools, detects people or vehicles entering unauthorized areas and immediately send alerts to your email as well as Hawkeye's 24 hours monitoring centre for immediate response. Our monitoring center will see a video clip of what caused the alarm and can immediately verify whether the alarm is genuine or not. This enables your video system to immediately capture crimes in progress rather than after the fact.
The cloud based solution also eliminates the need for you to have a dedicated server since the recording is done in the cloud, thus making the installation more affordable. CheckVideo can integrate with your existing Analog CCTV system or you can deploy new cameras.
Videofied

Videofied is a unique video verification system that uses wireless motion viewers (motion detectors with a built in camera) and other sensors to detect intruders and immediately notify Hawkeye's monitoring center of the alarm along with a 10s video clip of the alarm. Hawkeye can then verify and dispatch an armed response team if needed. What makes Videofied unique:
The entire system is fully wireless and does not require any power to operate. This makes it easy to install as well as it allows it to operate in areas with poor or no power supply.
Communicates over cellular –All communication of alarms and video clips is done over the cellular network allowing it to work almost anywhere in Jamaica.
Here's the Concept
Here's some actual footage from the system Already have a security system?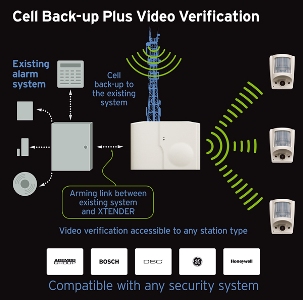 The XTENDER is the perfect solution. The Videofied® Upgrade is added to the existing security system and provides an additional layer of security.
Nothing in the current system changes, same keypad, codes, etc. Add Videofied® to any existing control panel.
VideoIQ

VideoIQ is the inventor of the best performing, yet simplest, proactive surveillance system available today. Based on award-winning adaptive analytics, VideoIQ provides a suite of powerful, all-in-one systems that deliver superior accuracy, maximum range and self-calibration.
What makes Video IQ different?
They use a decentralized model to video recording where all the recording is done at the camera rather than on a server. This significantly reduces bandwidth on the network and minimizes a single point of failure which is normally associated with a centralized server approach.
All the cameras come with built in a video analytics able to identify people, vehicles and boats.
Support for two way audio. This would allow a monitoring centre to broadcast warning messages if an intruder was seen.
Instantaneous alerts on the remote management software.
Support Up to 2 Mega Pixel cameras and can work with existing cameras as well.
Grow as you need. Whether you need 1 or 1000 simply keep adding.