CheckVideo

CheckVideo is a cloud-based intelligent video surveillance and alarm verification system. It's smart detection tools, detects people or vehicles entering unauthorized areas and immediately send alerts to your email as well as Hawkeye's 24 hours monitoring centre for immediate response.  Our monitoring center will see a video clip of what caused the alarm and can immediately verify whether the alarm is genuine or not.  This enables your video system to immediately capture crimes in progress rather than after the fact.
The cloud based solution also eliminates the need for you to have a dedicated server since the recording is done in the cloud, thus making the installation more affordable. CheckVideo can integrate with your existing Analog CCTV system or you can deploy new cameras.
Videofied

Videofied is a unique video verification system that uses wireless motion viewers (motion detectors with a built in camera) and other sensors to detect intruders and immediately notify Hawkeye's monitoring center of the alarm along with a 10s video clip of the alarm. Hawkeye can then verify and dispatch an armed response team if needed. What makes Videofied unique:
The entire system is fully wireless and does not require any power to operate. This makes it easy to install as well as it allows it to operate in areas with poor or no power supply.
Communicates over cellular –All communication of alarms and video clips is done over the cellular network allowing it to work almost anywhere in Jamaica.
Here's the Concept
Here's some actual footage from the system Already have a security system?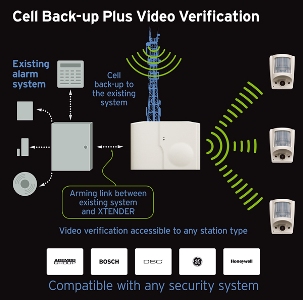 The XTENDER is the perfect solution. The Videofied® Upgrade is added to the existing security system and provides an additional layer of security.
Nothing in the current system changes, same keypad, codes, etc. Add Videofied® to any existing control panel.